Pro Hockey's First Black Coach
John Paris Jr.holds a special place in the annals of professional hockey. Not only was he the head coach of the 1994 Turner Cup champion Knights (after replacing Gene Ubriaco mid-season), but he was the first black professional hockey coach.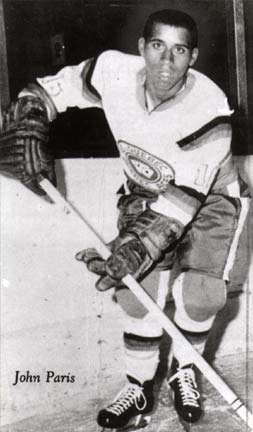 He grew up in Windsor, Nova Scotia, the son of lifelong hockey man John "Buster" Paris Sr. and the brother of hockey players. His pro career, as an undersized wing, went as far as nine games with the Eastern Hockey League's Knoxville Knights; he played extensively in the Canadian junior and senior systems, and then went in to coaching with the Granby Bisons of the Quebec Major-Junior League.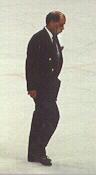 His results were indifferent, hovering around .500 with a variety of QMJHL teams. He was hired to coach the Atlanta Fire Ants, the roller hockey team owned by Knights management, for the 1994 summertime season. That placed him in Atlanta with the Knights as the right man in the right place at the right time.
With just 17 games to go in the regular season, the Knights head coach, Gene Ubriaco, was promoted to chief scout by the Knights' NHL affilliate in Tampa Bay. General manager Joe Bucchino appointed John Paris Jr. to lead the Knights. Just as another famous Atlantan would have insisted, the color of his skin had nothing to do with the hire -- it was the content of his character and just plain good fortune that put him behind the bench with the Knights team that went on to win the Turner Cup.
Paris led the team for the entire 1994-95 season and the first part of the 1995-96 season, but was relieved of his coaching duties and made Director of Player Development on January 8, 1996, with the Knights mired in a slump. Inconsistency and the losing record were cited as the reasons for the switch.
John Paris Jr. compiled a 65-64-11 regular-season record and a 14-5 playoff record in 2 1/2 seasons with the Atlanta Knights. Assistant Scott Gordon (an ex-Knights player) replaced him as the team's head coach. In 1996, with the Knights gone to Quebec, Paris remained in Georgia as the head coach and general manager of the Central Hockey League's Macon Whoopee.
He was inducted into the Windsor Heritage Hockey Society Hall of Fame in 1998 (his father Buster Paris was inducted in 2001). Today, in addition to his hockey efforts, he is active in Companions in Courage, an organization founded by Hall of Famer Pat LaFontaine which seeks to build playrooms in children's hospitals in North America.