Fletcher by a Knockout
The Atlanta Knights were not having a good time of it on the night of March 19, 1996. The visiting Chicago Wolves were throttling them at the Omni, and the crowd was packing up to leave when the Knights managed to put one past ex-Knight Wendell Young, who was minding the Wolves net.
With the "Hey!" song blaring, Chicago's enforcer Greg Walters decided to quash the Knights' rally before it began. He did so by rushing the Knights' enforcer, the legendary Steve Fletcher. The ensuing fight made Fletch an Atlanta fan favorite and just about finished Walters' tenure in Chicago. Walters wore #77 for the Wolves -- the jersey number Fletcher had worn during his storied career with the Fort Wayne Komets. (Fletcher was wearing #12 for the Knights with #77 taken by Atlanta teammate Reggie Savage [who was traded to AHL Syracuse earlier that same day]; he changed to #96 later in the season.)
It started with Walters rushing Fletcher from behind in front of the Wolves net. The young Walters didn't know it, maybe he was just trying to make his bones in the IHL by attacking the league's most storied fighter... or maybe he was just an idiot. Either way, he went for Fletcher with bad intent before 5,261 witnesses.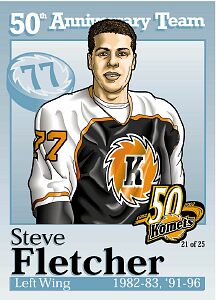 The goal was scored by Allan Egeland, who had both Knights tallies in the game.
The fight didn't help the Knights, but brought the crowd out of its funk. Walters skated toward Fletcher's back, shoved and hit the Knights enforcer, and then squared off, expecting a fight.
Boy, did he get one.
There is still some debate as to whether Walters knew what he was in for. The Knights' Fletcher administered such a thorough hosing that Walters ended up face down, on the ice, in front of the Wolves' net, with Fletcher sitting on his back, pounding Walters' bleeding face into the ice again and again as the crowd roared.
When it was obvious that Walters wasn't getting up -- and the blood on the ice was spreading at an alarming rate -- the linesmen that night rushed in to break up the fight. Fletcher was led towards the Knights' locker room at the opposite end of the rink; Walters to the Wolves locker room.
Suddenly Walters pulled away from the linesman escorting him off the ice and made a beeline for Fletcher. Apparently one beating wasn't enough for him. What could he have been thinking? As the crowd rained down a chant of "FLETCH! FLETCH! FLETCH!" the second fight ended much the same as the first -- with Walters down, out and bloody, and Fletcher skating away triumphantly.
In the stat books, the game went down as just another defensive flop and a loss... but the crowd had a new favorite, Steve Fletcher.