The International Hockey League
"This is a league for the masses and not the classes."
---Richard Adler, president of the Atlanta Knights, on the IHL
The Atlanta Knights played in the International Hockey League, which existed from 1946 until its collapse and partial absorption into the American Hockey League in 2001.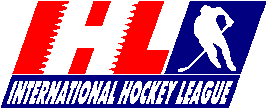 Teams of the IHL
The member teams of the IHL changed every season during the Knights' four years. Teams moved up, down, or out of the minor league hockey system. The IHL had a limited strategic partnership with the NBA, and some IHL owners were part owners of NBA teams and/or their arenas (for example, the owners of the Detroit Vipers also owned the NBA Detroit Pistons).
Click on a team name below for more information about the team. Only teams active during the Knights' tenure in the IHL are listed.
The Russian Penguins and Soviet Wings were barnstorming teams (from the Russian Army and Air Force respectively) that played in IHL cities. The games counted in IHL standings and statistics.